Who We Are

Family Chiropractor & Sports Therapy Clinic in Cedar Park, TX.  Proud to serve the people and families of Cedar Park, Leander, Liberty Hill, Avery Ranch, Round Rock, Georgetown and North Austin.
Chiropractors focus on the relationship between the spine and nervous system, and how the relationship affects the preservation and restoration of health. Dr. Owens will evaluate the entire patient as a whole, during examination and treating a patient's health alignment and not just focusing on only one symptom or specific part of the body.
Chiropractic is known for treating back and neck pain, but did you know in today's modern society it's also used to treat a range of problems such as chronic pain, headaches, migraines, carpal tunnel, muscle strain or pain from an injury, whiplash and so much more.
Our practice is built on the foundation of four things:
1.  The Body has Amazing Healing Potential
2.  Proactively Fixing the Problem Sooner than Later is Better (No More "Now that you are broke, come see me")
3.  Our Practice Members (Patients) are People NOT Numbers
4.  Our Practice Members should be treated the same way Dr. Owens wants to be treated and his family treated
Free of Pain after First Visit
Utilize our Weight Loss Service
Meet Dr. Jason Owens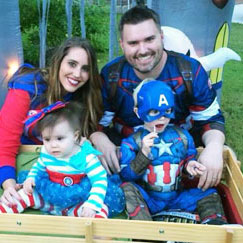 Dr. Owens grew up in a small town in Central Florida.  He attended the University of Central Florida in Orlando, FL where he completed his Bachelor's Degree.  During this time at UCF, he was fortunate to meet his future wife, Victoria, a native Texan from the DFW area.  After completion of his bachelor's degree, he moved to Atlanta, GA to enroll in Life University, where he completed his Doctorate of Chiropractic (DC) Degree.  During his time at Life, he gained experience as the clinic exam doctor for 3 years in one of Atlanta-area's largest chiropractic clinics.
Upon graduation in 2008, he immediately began additional training in one of the nation's largest chiropractic clinic in Naples, FL to further his experience in corrective chiropractic care.   Following his training, he began to explore sports medicine and joined a Texas-based healthcare group as the Director of Sports Therapy & a Certified Provider to focus on correcting soft tissue and sports-related injuries.  Over 5 years, he specifically focused on sports-related injuries and served patients in greater Round Rock and Lakeway areas.  Over the course of time, he had the opportunity to work with professional athletes, Olympic Gold Medalists, collegiate athletes, CrossFit Games athletes, and numerous high school & select sport athletes to solidify his understanding of properly diagnosing and correcting sports injuries.
Shortly after starting his family, Dr. Owens was reminded of the amazing healing power that our bodies have – which is the foundation of chiropractic.  Dr. Owens then made the decision to come back to his original love of caring for people through chiropractic while incorporating many of the skills he had learned through sports therapy and active rehabilitation. Dr. Owens and his wife, Victoria, have two young children, Jaxen and Paisley, and they had no hesitation deciding to plant Cedar Park Family Chiropractic in their community and are proud to call the greater Cedar Park area home. Dr. Owens is proud to share his passion for chiropractic and the body's amazing healing potential while incorporating the fast recovery of sports therapy.
Our Amazing Health Team
 NATE VICKERS - Bulletproof Certified Coach & Personal Trainer
Nate's Bio - COMING SOON
Have Questions?  This email address is being protected from spambots. You need JavaScript enabled to view it.
 MICHELLE MOSTRET - Pulsed Electro-Magnetic Field (PEMF) Therapist
Michelle's Bio - COMING SOON
Have Questions?  This email address is being protected from spambots. You need JavaScript enabled to view it.